A Caul is a skin membrane covering the head and face. Roman Godfrey, Nadia Godfrey, and several others were born with it, symbolizing future supernatural importance, especially those destined to become Upir. In the second season of Hemlock Grove, the cult with the masks, the main antagonists, lead several murders of families whose have members born with the caul in order to destroy the supernatural.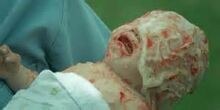 Ad blocker interference detected!
Wikia is a free-to-use site that makes money from advertising. We have a modified experience for viewers using ad blockers

Wikia is not accessible if you've made further modifications. Remove the custom ad blocker rule(s) and the page will load as expected.