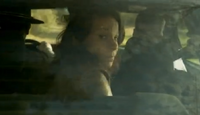 Blood Pressure - Lynda is comforting a still-grieving Peter and gently encouraging him to let Letha a go. The funeral is broken up when the police roll up and start tackling everyone in reach. Peter managed to get away, however, Lynda was caught by one of the police officers and was arrested. Peter tries to help her break free, but fails. Lynda is thrown into the police car driving away as Peter runs after it trying to get his mother back.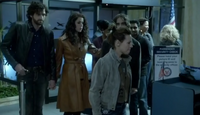 Hemlock Diego's Policy Player's Dream Book - Peter and Destiny left the office of the lawyer that they got for Lynda and goes to the prison to visit Lynda. Peter and Destiny lie to her about the lawyer having a good case to give her hope. However, Lynda tells them that she's being transferred to another prison soon. Destiny cooks up a potion that spawns imaginary spiders all over the faces of the correctional officers taking Lynda to her new prison. When the officers run off in a panic, Peter, Andreas and Destiny roll up to break her out. Peter hands her a plane ticket to Romania and they rush off to the airport. At the airport Lynda realizes this will probably be the last time she sees her son especially since she has a "feeling" people in Hemlock Grove still need him. They say their final goodbyes as Lynda makes her way onto the plane.
Ad blocker interference detected!
Wikia is a free-to-use site that makes money from advertising. We have a modified experience for viewers using ad blockers

Wikia is not accessible if you've made further modifications. Remove the custom ad blocker rule(s) and the page will load as expected.